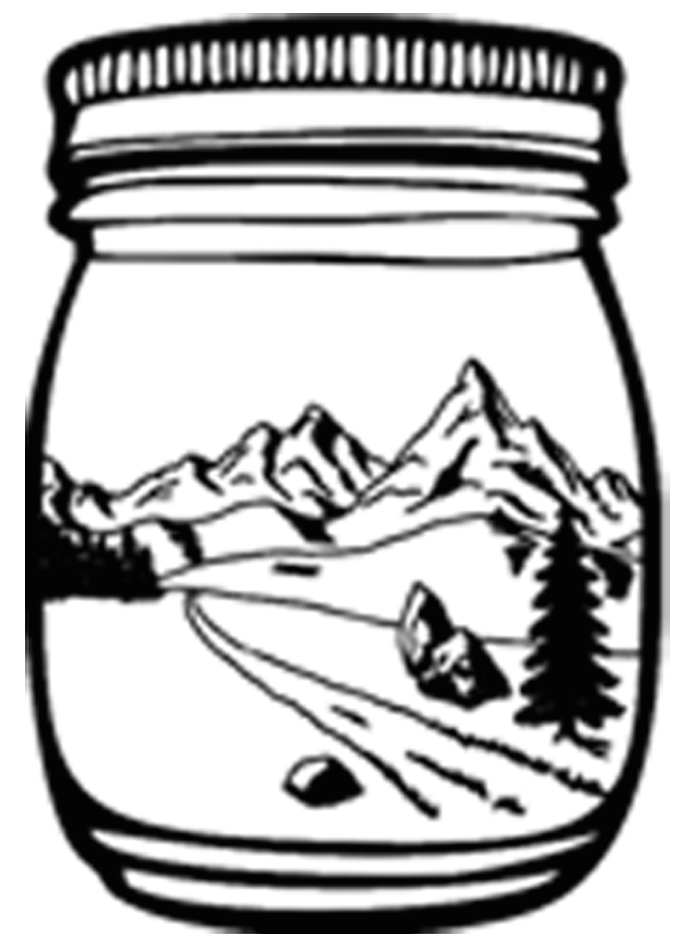 ­­
Hello, dear customer! Thank you for visiting
Our store of best natural items for health!
100% Natural Premium Quality Altaic Oils
Product: natural oils of seabuckthorn, cedar nuts and pumpkin seeds.
Model: 100ml of oil in a glass bottle.
Place of origin: Altai Mountains (Siberia, Russia).
Manufacturer: Herbal Magic Ltd.
Shelf life: 18-24 months. The date manufactured is stamped on the bottle.
Certification: Certificate of authenticity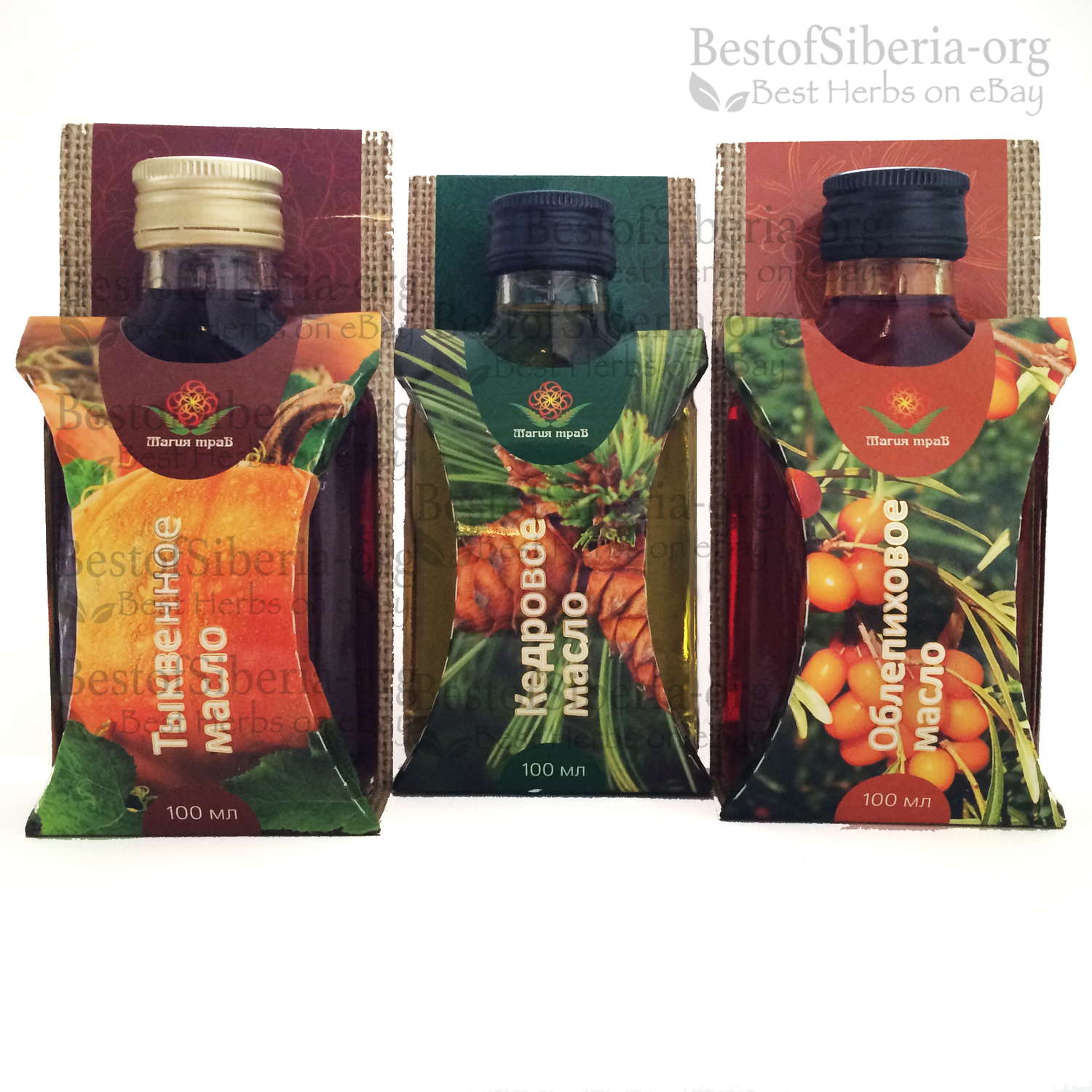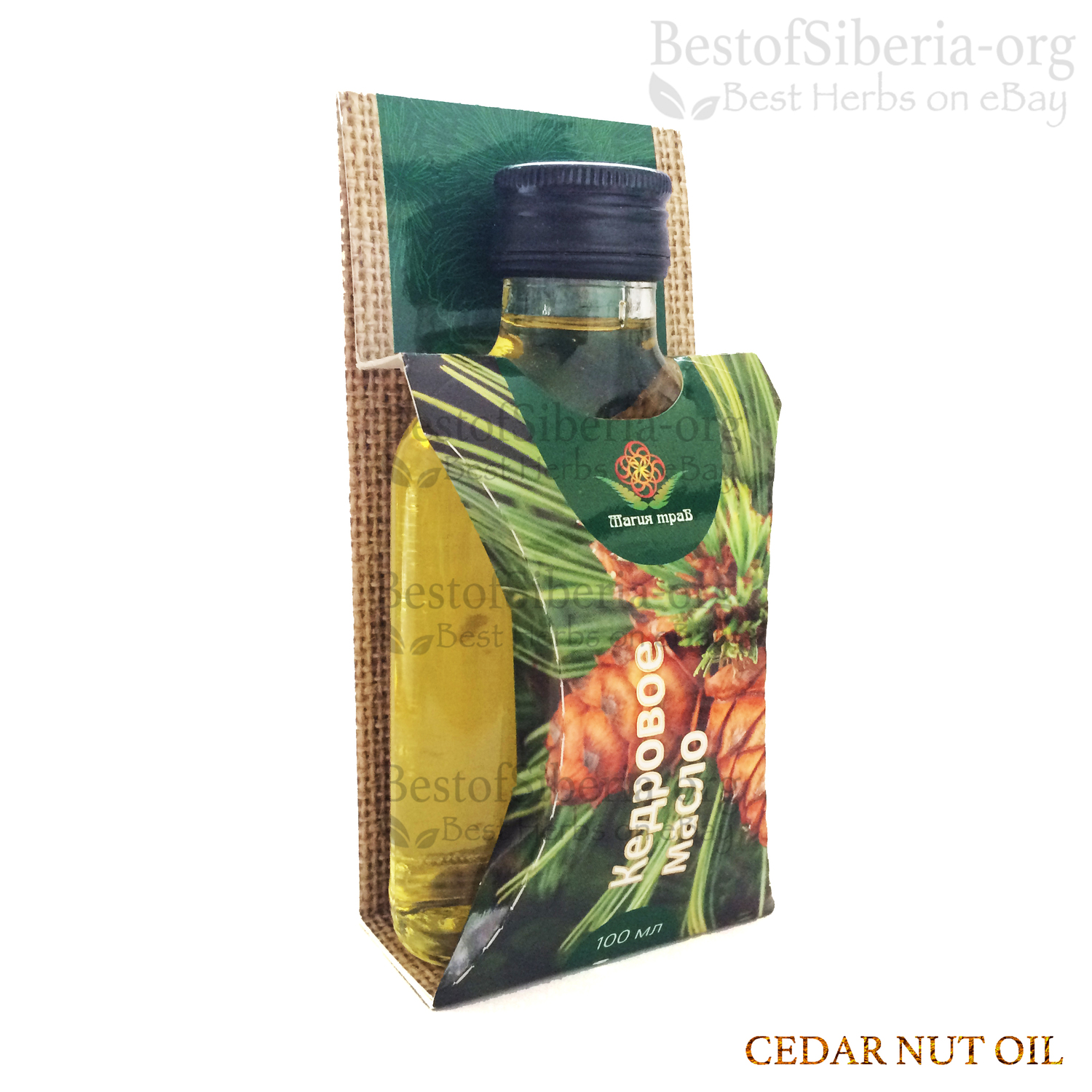 Produced from cedar nut kernel, cold-pressed with the use of "gentle purifying" technology, which helps to preserve all the complex of biologicaly active ingredients.Cedar oil contains: complex of vitamins of E, B, D, F, C, P, PP groups, A-vitamins, micro- and macroelements: potassium, magnesium, zinc, manganese, etc; a complex of Omega 3-6-9 polyunsaturated fatty acids.
Cedar oil provides a tonic effect to the whole organism, eliminates chronic fatigue syndrome, increases physical and mental performance. Regular consumption of cedar oil helps to improve digestibility and increases the activity of vitamins, primarily vitamins A, B, E, D.
The regular intake of oil is recommended:
-

In case of atherosclerosis (cedar oil lowers cholesterol levels)
-

In case of diseases of the cardiovascular system (normalizes blood pressure)
-

To strengthen the immune system
-

As an antioxidant for rejuvenating the body (vitamin E is often called "vitamin of youth")
-

Facilitates the excretion of salts of heavy metals, free radicals.
Dosage: 1 teaspoon 3 times a day. The duration of 1 application is month; may be repeated 3-4 times a year.
Contraindications: Individual intolerance of components, pregnancy, breast-feeding.
Shelf life: 24 months.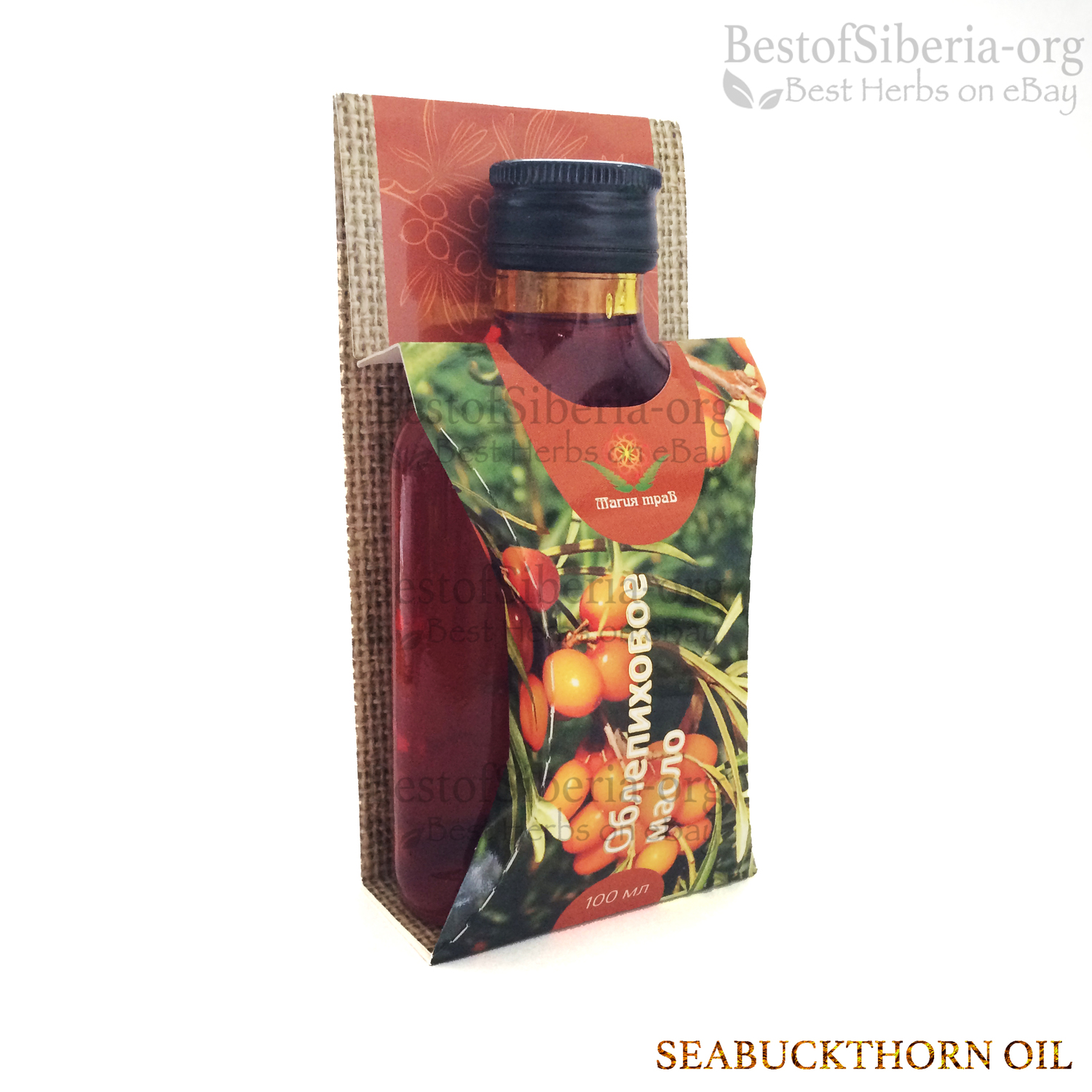 Produced from Altaic seabuckthorn fruit, cold-pressed with the use of "gentle purifying" technology, which helps to preserve all the complex of biologicaly active ingredients. Seabuckthorn oil is a source of natural beta-carotene carotenoids (not less than 50 mg%); Omega – 3, 6, 7, 9 polyunsaturated fatty acids; vitamins: A (retinol), E (tocopherol) K (phylloquinone), F, C, P, B1, B6, B9; macro- and microelements.
Due to the natural antioxidant complex, seabuckthorn oil slows down the aging processes. The oil is recommended for workers in hazardous industries (removes toxins and heavy metals), protects the liver. The oil is widely used as a regenerative, healing, antioxidant, multivitamin means. Moreover, it is used in cosmetology as a means for face&body skin care.It is recommended to use:
-

As a wound healing agent for burns, erosions, gastric ulcer and 12 duodenal ulcer
-

For the normalization of level of cholesterol
-

Prevents the development of atherosclerosis
-

As a source of vitamin E, which positively affects the processes of reproduction
-

As a prophylactic agent for oncological and cardiovascular diseases.
Dosage: 1 teaspoon 2 times a day during meal that provides 30% of the adequate daily requirement of an organism in carotenoids and 7.2 % of the daily requirement in fats. The duration of application is 3-4 weeks, you can repeat the cycle 2-3 times per year.
Contraindications: Individual intolerance of components, severe liver disease and pancreas.
Shelf life: 24 months.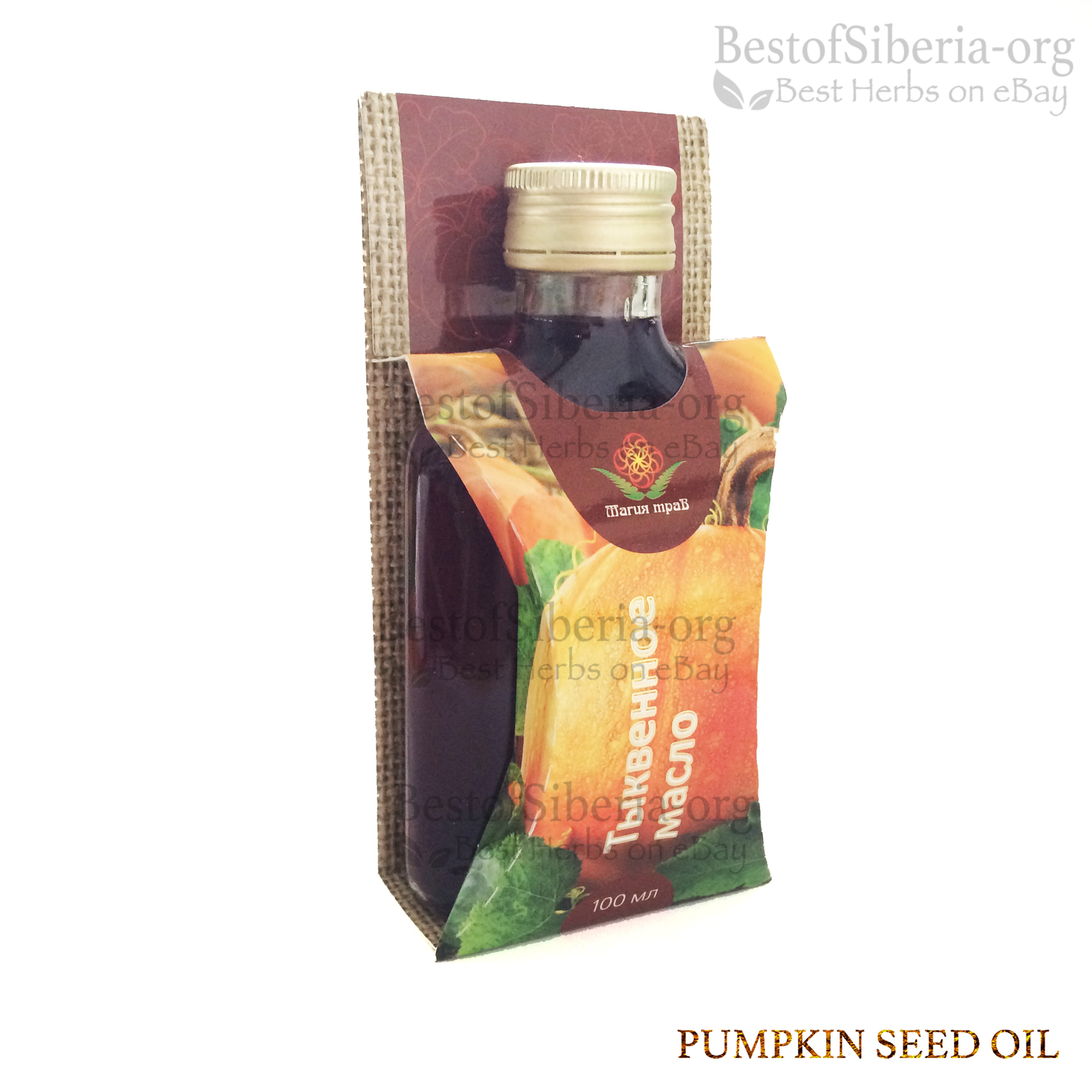 Produced from pumpkin seeds with the use of cold pressing techonology with preservation of the unique complex of biologically active ingredients. Pumpkin seed oil is a source of: proteins and vitamins (A, E, F, B1, B2, B3, B6, B9, C, P, T, K, etc.); polysaturated omega – 6 and omega – 3 fatty acids; macro and micronutrients; phytosterols, phospholipids, flavonoids, chlorophyll, etc.
Regular intake of pumpkin seed oil is recommended:
-

In case of holelithiasis, cholecystitis (normalizes the process of bile secretion, protects the liver against the formation of fat, prevents the development of inflammatory processes in the liver, gall bladder and biliary tract)
-

To improve the functioning of the gastrointestinal tract (anti-inflammatory and ranozazivluschee effect on the mucous membranes of the intestines and stomach, helps normalizatsii acidity of gastric juice, has a mild laxative effect)
-

To improve the functioning of the liver and gall bladder, cardiovascular, digestive, endocrine and nervous systems
-

To improve the process of metabolism, cleansing the body of harmful substances (toxins, toxins, carcinogens etc.)
-

To strengthen the immune system and maintaining normal hormonal balance.
Dosage: 1 teaspoon 2-3 times a day, 1 hour before meals or 2 hours after eating. Do not drink water with oil.
Contraindications: individual intolerance of components, pregnancy, breast-feeding.
Shelf life: 18 months.
Why is it a right decision to buy from us?
We carefully choose the goods for placing them in our store: the main determinant is quality.
We collaborate only with manufacturers which can prove the quality of their goods. "Herbal Magic" is the company which produces high quality natural oils for more than 20 years and has won wining positions on Russian market
All products in our store, including this one, are certified. That means oils we sell do not contain any impuruties.
The certificates also prove that there are no forbidden levels of toxic elements in all the production we sell.
The oils of "Herbal Magic" company
are surely produced according to all quality
standards.
We are breaking the stereotype that healthy products should cost a fortune.
Our company does not have a goal to make superprofits – we want to make the wonderful products from Siberia affordable for everyone on the Earth. Buying from us, you can be sure that you will get the best product for best price.
All the international mail from Altai is firstly shipped to Moscow and only then to your country.
By tranporting the items to Moscow ourselves before you order the item, we save your time and money: you get your parcel about a week earlier comparing to sending it by post directly from Altai region. It is cheaper and safer too!
We restock up to 3 times a month in order to provide you with the freshest products from Altai.
Our tiny warehouse and massive demand for our products support the frequent renewal of our stocks. Anyway, even though the products do not have to wait long before they are sold out, still the best possible storage conditions are provided.
­Honesty­ is our main trade principle, which is highly appreciated by our buyers.
We never tell lies just to sell you one more item. When buying from us, you don't fund copyright infringements: we never copy other people's photos and texts although many Russian sellers do this. Moreover, unlike them we do really speak English with no problem and are open to any questions!
And, of course, our customers' feedback!






Shilajit is reccommended for:
-

Fractures, injuries, burns
-

Against the stretch marks after giving birth (striae)
- For eliminating changes in the digestive system (ulcers, gastritis, bleeding)
- Against the inflammatory and infectious processes of urogenital system
- Against the prostatitis and prostate adenomadiabetes and related complications
- During the allergies, metabolic disorders, obesity
- For eliminating adverse changes in the cardiovascular system, high blood pressure
- During the changes in the vessels of atherosclerotic lesions, varicose veins, hemorrhoids
- Against the arthrosis, arthritis, deposition of salts, goutduring the urolithiasis, kidney, liver and gallbladder
- During the mastitis
- Against the neuralgia, neuritis, neurodermatitis, polio, sciatica, rheumatism
- During the constipations
- During the oncological changes
- For eliminating a decrease in vision caused by age-related changes
- Against the frequent colds and infections, otitis media, pneumonia
- In case of the changes in skin structure, including psoriasis, acne, boils
Inside:


Take 0.25 g (half of the measuring spoon you will find in box) once a day with meal. As moomiyo has strong taste, we recommend you to take it with warm milk or orange juice. Duration of course: 4 weeks. It's recommended to take four courses per year.
To rinse:


Dissolve a half of a teaspoon of shilajit in the 200 ml of warm boiled water. Take it as a rinse three times a day (a dose –60 ml). Course of rinses: 7 days. The liquid for rinses can be used outwardly as a cleansing tonic for a skin or body or against the hair loss.
Outwards as a mask or compress:


Dissolve 1 tablespoon of the shilajit in the 50 ml of warm boiled water until it becomes a homogenous substance. Use it for rubbing during the pain in the back, joints, muscles, venous pain, against the skin diseases. You can use a mass as a compress during the strong pains: take it on a gauze bandage, affix to a painful area for 2 hours and take away, rinsing an area by water. Grindings and compresses are recommended to be used three times a week. Duration of the admission course: 1 month. It's recommended to take four courses per year.
Shilajit is not recommended in case of very high blood pressure, during the period of major bleeding, pregnant and lactating women, children under 12 years.
We accept only PayPal as we find it the safest and the most flexible variant both for buyer and seller.
We pack all the goods with the use of multiple layers of bubble film combined with regular stretch film to be sure even the most fragile glass jars and bottes will be able to travel overseas safe and sound.
We usually post items within 2 full working days from the time we receive your payment. There are 2 ways we can post your order: economy shipmement and EMS-expedited shipment.
Economy shipment by Russian Post tracked packet - sent by air
This shipping option is free. Anyway, each order (whenever its size is) gets a free tracking ID. The expected delivery time is 14-30 days to Europe, Israel, 14-45 days to US, 25-50 days to Canada and Australia.
EMS expedited shipment - premium postal service, sent by air
This option is paid - check our shipping policy above to know the exact amount you will have to pay for it - it is $30 on average, but individual for each product (according to its weight). The expected delivery time is not more than 14 working days to almost all countries.
The satisfaction of each customer is the most important criteria for me as the manager of the store. That means, I will do everything to solve any situation that may happen, so please, write me before opening a dispute of leaving bad feedback (3 or less stars in detailed ranking) - there is absolutely no doubt that i will help you! If you are happy with the service, please, leave me 5-star detailed rankings! :)
IMPORTANT INFO: please read before making your purchase!
Due to negative recent events in Europe and other countries, each parcel is now checked more and more thoroughly on customs. That sometimes leads to delays in the delivery of economy post. As a result, it rarely takes up to 45 days to ship the parcel to UK and US (60 days to Canada) Anyway, it is all done for our safety. So we are asking you, please, think twice before buying, as we do not want to get negative feedback or disputes right after the expected date of delivery comes just because of the shipment time. If you do not want to wait, please choose express-shipment option, as even with it the price we offer is much lower than many other sellers can offer. Thank you very much for understanding!
Some items we sell may come in package with only Russian text and no instructions in English - you really don't need to worry, as everything which is originally written on the box and in instructions is translated here in the listing details. Moreover, we always give much more info about the products we sell based on what manufacturers write on their sites and what is stated in the certificates :)
Special note about expiration dates. Please remember, that expiration formats are different in different countries. Many items imported from Russia have a produced date stated on tube/package and there is a special note about shelf life, like 24 months for example. (Rarely 18, 12 month or other). In this case, the date you see on tube/package is not an expiration date but the produced date.
As a responsible and experienced seller I really strive to provide you with the best service possible and we always keep an eye on expiration dates and never sell expired products. However, if you received an order and do have any doubts about expiration dates of your items please feel free to contact me.
Thank you very much for visiting our store! Have a really nice day! If there are any questions left - do not hesitate to write us, we speak your language and are ready to give a speedy reply!